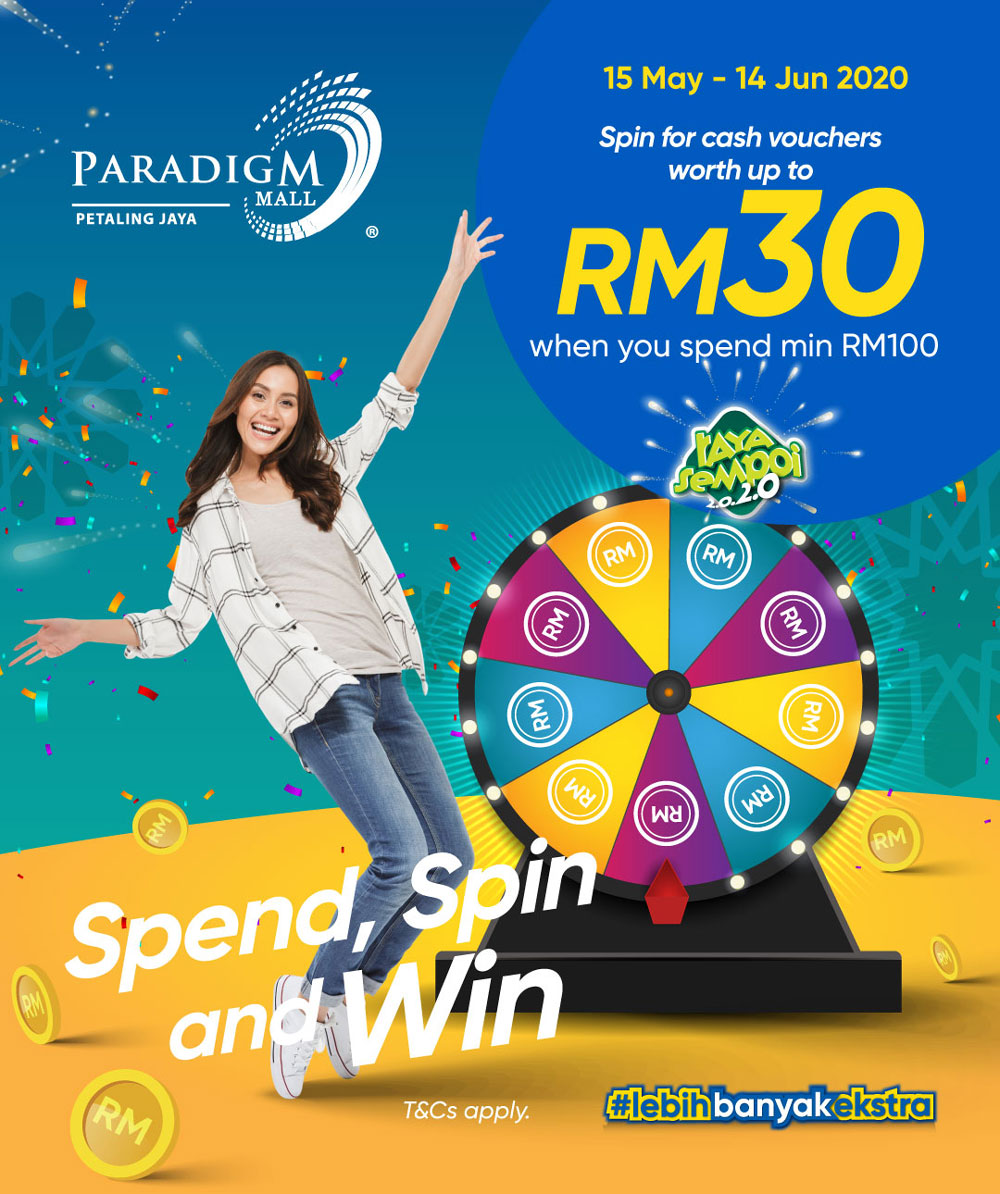 15 May - 14 Jun
Paradigm Mall PJ
Paradigm Mall PJ Spend, Spin and Win Campaign
Terms and Conditions
Promotion Period is from 15th May 2020 to 14th June 2020.
Get up to RM30 cash vouchers with a minimum spend of RM100.00 with a maximum of 2 combined receipt at all Paradigm Mall PJ retail stores and pay with Touch 'n Go eWallet 'Pay' function. This promotion is only valid for in-store purchases.
The cash vouchers can be redeemed from Paradigm Mall PJ Customer Service Counter located at Level G (near Starbucks)
More than 2 combined receipts and/or no split transactions are not allowed.
The cash vouchers are limited to the first 1,500 pieces. The Promotion will cease once the cash vouchers have been fully redeemed or at the expiration of the Promotion Period, whichever is earlier.
Promotion is valid at Paradigm Mall PJ and for in-stores purchases only.
This Promotion shall not be valid with other ongoing promotions, discounts, or vouchers. (Add in that vouchers are not exchangeable for cash / transferrable. Shoppers are to take note of the vouchers expiration date)
Promotion is not applicable for any form or type of bill payment and reload transactions. (Please add in money changer, transportation hub receipts, hotel)
This Terms and Conditions shall be further subject to:
(the Management of Paradigm Mall PJ reserves the right to amend, change the terms and conditions without prior notice)
Please visit www.tngdigital.com.my for more information or inquiries.
Information is updated as at 30th April 2020
Kempen Paradigm Mall PJ Spend, Spin and Win
Terma dan Syarat
Tempoh Promosi bermula pada 15 Mei 2020 sehingga 14 Jun 2020.
Dapatkan baucar tunai sehingga RM30 apabila anda berbelanja minimum RM100.00 dengan gabungan maksimum 2 resit di semua kedai Paradigm Mall PJ dan membuat bayaran menggunakan fungsi 'Pay' pada aplikasi Touch 'n Go eWallet. Promosi ini hanya sah untuk pembelian dalam kedai sahaja.
Baucar tunai boleh ditebus dikaunter Perkhidmatan Pelanggan Paradigm Mall untuk setiap transaksi yang berjaya
Penggabungan resit lebih dari 2 dan/atau pengasingan transaksi adalah tidak dibenarkan.
Baucar tunai terhad kepada 1,500 keping pertama yang layak. Promosi ini akan berakhir apabila kesemua baucar tunai telah ditebus atau tempoh promosi tamat, yang mana yang lebih terdahulu.
Promosi ini sah di Paradigm Mall PJ dan pembelian di kedai sahaja
Promosi ini tidak sah digunakan dengan mana-mana promosi, diskaun atau baucar yang lain.
Promosi ini tidak sah untuk sebarang jenis pembayaran bil dan tambah nilai transaksi.
Terma dan Syarat ini tertakluk kepada:
Sila layari www.tngdigital.com.my untuk maklumat lanjut atau pertanyaan.
Informasi ini dikemaskini pada 30 April 2020