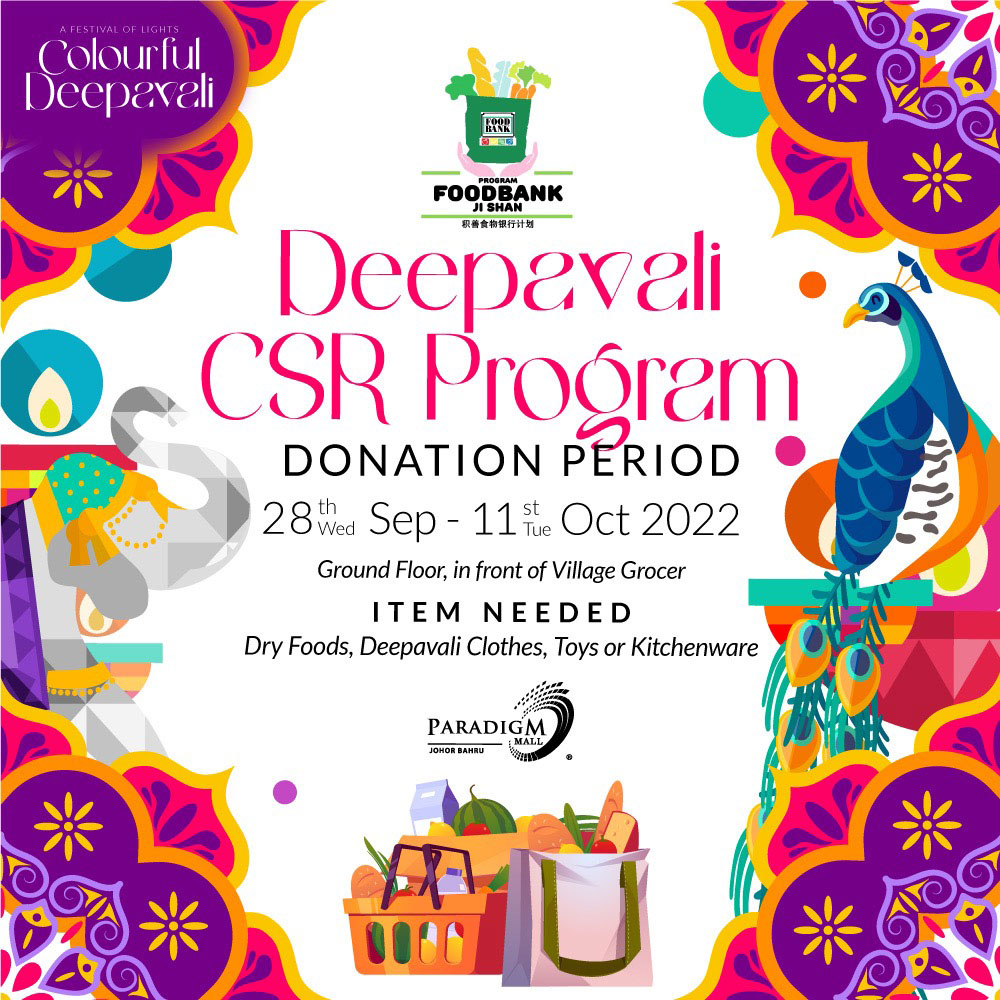 28 Sept - 11 Oct
Ground Floor, in front of Village Grocer
"𝐓𝐡𝐞 𝐬𝐦𝐚𝐥𝐥𝐞𝐬𝐭 𝐚𝐜𝐭 𝐨𝐟 𝐤𝐢𝐧𝐝𝐧𝐞𝐬𝐬 𝐢𝐬 𝐰𝐨𝐫𝐭𝐡 𝐦𝐨𝐫𝐞 𝐭𝐡𝐚𝐧 𝐭𝐡𝐞 𝐠𝐫𝐚𝐧𝐝𝐞𝐬𝐭 𝐢𝐧𝐭𝐞𝐧𝐭𝐢𝐨𝐧." - 𝐎𝐬𝐜𝐚𝐫 𝐖𝐢𝐥𝐝𝐞
Let's spread hope and light this Colourful Deepavali by donating together! ✨
Paradigm Mall Johor Bahru together with Food Bank Ji Shan will be running a Food Donation Drive, an initiative to assist local communities who are in need.
If you wish to join in on this effort, please head over to our Donation Box infront of Village Grocer. 🙌🏻
𝐃𝐨𝐧𝐚𝐭𝐢𝐨𝐧 𝐏𝐞𝐫𝐢𝐨𝐝: 𝟐𝟖𝐭𝐡 𝐒𝐞𝐩𝐭𝐞𝐦𝐛𝐞𝐫 - 𝟗𝐭𝐡 𝐎𝐜𝐭𝐨𝐛𝐞𝐫 𝟐𝟎𝟐𝟐
Download WCT Buddy: www.wct.com.my/wctbuddy or stay tuned to our Paradigm Mall JB Facebook page to get the latest promo & newest info!
#ParadigmMallJB #Deepavali #ColourfulDeepavali #CSRProgram